People lose teeth due to a number of reasons. In our practice, we utilize modern dentistry to restore your healthy smile. All-on-4 treatment is a way of replacing missing teeth and traditional removable dentures. This treatment has gained a lot of popularity because of its appreciated results.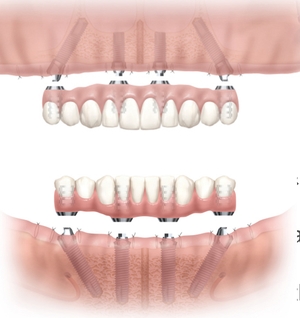 What Are All-on-4 Fixed Dentures?
The All-on-4 treatment includes surgically placing four metal implants into the jaw. The implants support a customized set of dentures that is permanently fixed to the mouth. All-on-4 fixed dentures are a permanent and same-day solution to people missing multiple teeth.

What Are the Benefits of All-on-4 Dentures?
People who cannot receive dental implants due to insufficient bone density can undergo bone grafting with All-on-4 dentures. This procedure will help regain the jawbone strength. The benefits of All-on-4 Fixed dentures include:
The procedure causes minimal pain as you will be under anesthesia during the whole procedure.
All-on-4 dentures are fixed to the jaw bone, so you don't have to worry about your dentures slipping and sliding from their place. 
This treatment can help preserve your bone in the jaw.
You need to give the same amount of oral care as you give to your natural teeth. 
Your new set of teeth will help improve the quality of life and enjoy the freedom and comfort of having a natural-looking smile again.
All-on-4 Dentures in Odessa
At Dental Solutions, PA, we perform same-day All-on-4 fixed denture procedures. When you visit us, at first, we will perform a CAT scan to assess the amount of bone present in the jaw and use 3-D digital imaging to provide a basis for the custom impressions created for your mouth. If there are teeth remaining in the mouth, they will be extracted and replaced with a set of implants and a temporary prosthesis. After a few months, we will remove the temporary prosthesis and replace it with a permanent set. 
Feel free to call us now to schedule your appointment with our experienced dentists. We'll be happy to guide you further.